Balkrishna (Bala) Lodhia,
D.Ac., D.H.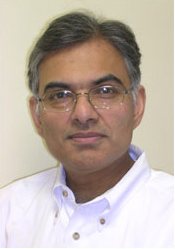 Balkrishna Lodhia was born in Durban, South Africa, where he completed his high school education (matric) in 1971. After joining the family business of goldsmitthing, Bala immigrated to Canada, completed courses in Gemmology, and apprenticed in Canada as a goldsmith. Bala returned to South Africa, after some time, to pursue studies in Homeopathy, a field in which he had a strong interest for many years. Under Dr. Norma Harman, Bala and his fellow students had four years of extensive hands-on training in Homeopathy and patient care at mobile clinics in the province of Natal, as well as the outskirts of Durban, Tongaat, Verulam, Estcourt, Pietermaritzburg and Chatsworth.
In 1978 Bala immigrated permanently to Canada with his family, practising Homeopathy only on a part-time basis. In 1991 he enrolled at the Ontario Institute of Acupuncture and Traditional Chinese Medicine and graduated in 1993 with full certification in Traditional Chinese Medicine (TCM) and Acupuncture. Bala opened up a full-time practice in 1994, the Holistic Health Clinic. In 1997, Bala was introduced to Bill Nelson (inventor of QXCI, Quantum Xeroid Consciousness Interface) and become an active practitioner of the Quantum Biofeedback machine. In fact, Bala is responsible for the inclusion of the Homeopathic Narayani formulas on the test matrix of the Quantum software.
Bala has served on the board of the Ontario Association of Acupuncture and Traditional Chinese Medicine and for seven years as Treasurer. He has been actively involved in brining alternative medicine to the forefront in Ontario, Canada. More recently, he has become a certified trainer of the QXCI and has spoken and lectured at many Quantum conferences. Bala lives with his family in Toronto, Canada, where he continues to practise Homeopathy, TCM, Acupuncture and QXCI at his full-time practice, the Holistic Health Clinic.
Associations:
Member of Ontario Association of Acupuncture and Traditional Chinese Medicine


Member of the Homeopathic Medical Council of Canada.


IMUNE certified advanced trainer.
Balkrishna Lodhia
Holistic Health Clinic


170 The Donway West, Unit #118
Don Mills, Ontario, Canada M3C 2G3
Tel.: (416) 446-5944
E-Mail:
bala@bellnet.ca
Click here for Map