Humesh Dalpatram Kapitan,
H.D., N.D., PhD. (Honorary)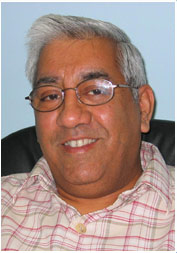 Humesh was personally trained as a Homeopath by Dr. Norma Harman in Durban, South Africa. His training was intense and his charitable work exposed him to a vary large range of patients from many parts of South Africa. Dr. Harman handed her practice to Humesh Kapitan as he proved himself to be a deserving successor to this large practice.
In 1988, Medicina Alternativa conferred an Honorary Doctor of Philosophy for his dedication to Homeopathy in South Africa. His vast experience, as chairperson of Health Awareness Clinic in Durban, has kept him in touch with many patients in South Africa even after he immigrated to Canada in 2002. Under his leadership he grew the Health Awareness Clinic into Durban's largest Homeopathic Practice.
Humesh is capable of treating many different disease conditions, including all ailments related to skin, Gastrointestinal problems, kidney and liver conditions. He has the real world experience in helping patients with emotional problems. He looks at the patient's physical, mental & emotional state to heal the whole person rather then just help a single physical ailment.
Click Here to See Humesh's
Certification from Homeopathic
Medical Council of Canada
Humesh Kapitan
Unionville Holistic Health Centre

317 Renfrew Drive, Suite 102
Markham, Ontario, Canada L3R 9S8
Tel.: (905) 305-8260 Fax: (905) 305-8926
E-mail:
h.kapitan@sympatico.ca
Click here for Map